By Gary Norris Gray, Staff Reporter
OAKLAND, CA.-  We here at Black Athletes Sports Network will be in our third year of boycotting the National Football League. The league not signing San Francisco quarterback Colin Kaepernick brings the nation's new past-time in the limelight and continues it's on going political, social, and racial hypocrisies. African American football fans are beginning to see the light and walking away from the game.
This year on football Sundays visit the video store and rent these movies.
There have been many movies about football but these are my classics 1 through 10. Anyone that loves the game of football must view them at least once.
1. Any Given Sunday puts you on the field, in the press box, and in the coaches corner. It is simply the best football movie of our time. The movie is partly based on the novel On Any Given Sunday by famed NFL defensive end Pat Toomay; the title is derived from a line in the book (also used in the film) that a team can win or lose on "any given Sunday", said by the fictitious coach Tony D'Amato. It featured cameo appearances by ex NFL players and coaches.
2. Remember The Titans. This is a movie every football team must see. Discussing what team work really means and how difference can be overcome with great effort and will. An African American coach has to integrate his all Black team with a rival all white high school team.
3. Brian's Song. This is a love story between teammates — Gale Sayers and Brian Piccolo — and what it means to really care about each other, as one player becomes terminally ill with cancer and passes away.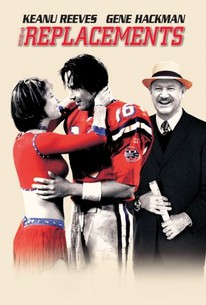 4. The Replacements. This is a story about what leadership can achieve over adversity and division. It is also a story about players unions, love, and diversity.
 5. The Express. This is a story about one of the best players of our time (Ernie Davis) who never got a chance to show the world how great he was. In 1961, Davis won the Heisman Trophy following his senior season in college. He later becomes a professional athlete in the National Football League and signs a contract with the Cleveland Browns.
6. Heaven Can Wait is a feel good movie about a player coming back to earth to guide his team to the Super Bowl. Joe Pendleton (Warren Beatty), a backup quarterback for the Los Angeles Rams, is looking forward to leading his team to the Super Bowl. While riding his bicycle through the older west side of tunnel one on Kanan-Dume road in Malibu, he collides with a truck. An over-anxious guardian angel (Buck Henry) on his first assignment plucks Joe out of his body early, in the mistaken belief that his death is imminent, and Pendleton arrives in the after life. It was very interesting because one year after the movie was released the Rams played the Steelers in Super Bowl XIV.
7. North Dallas 40. Based on the novel by former Cowboy player Pete Gent, North Dallas 40 is about everything bad you wanted to know about football. This is a classic in every way. As one player (John Matuszak) finally erupts to a coach (Charles Durning): "Every time I call it a game, you call it a business. They say every time I call it a business, you call it a game."  After the last two Super Bowl games, we all know where the NFL stands.
8. The Longest Yard (original) This was a The Prisoners vs. The Guards movie about aging star ex-players, The goal line stand and the vindictive warden make this movie another classic. The original is so much better than the remake because of the drama.  Many  NFL players at that time made cameo appearances in this movie.
9. Black Sunday. The inspiration for this story came from the Munich massacre, perpetrated by the Black September organization against Israeli athletes at the 1972 Summer Olympics. This incident gave both the novel and film its title. Michael Lander is a actor and a pilot who flies the Goodyear Blimp over NFL games to film them for network television. This is another Super Bowl football movie featuring the Cowboys and the Steelers
10. Two Minute Warning. An unknown sniper (Warren Miller) positions himself at the Los Angeles Memorial Coliseum prior to a professional football championship dubbed as "Championship X" (Ten) between "Baltimore" and "Los Angeles" similar to the Super Bowl. In the movie, he is spotted by a Goodyear Blimp camera. Police and SWAT team are immediately called in by the stadium manager Sam McKeever (Martin Balsam).
HONORABLE MENTION.
I have never seen the movie UNDEFEATED but from all the reviews about this movie. It is a must see movie because of the historical event of a Black quarterback (Charles Ealey) who never lost a high school game at Notre Dame High School in Portsmouth, Ohio, or college game at University of Toledo. This feat has never been repeated.
SEND IN YOUR LIST OF TOP TEN FOOTBALL MOVIES
Gary Norris Gray – Writer, Author, Historian. Gibbs Magazine-Oakland, California and New England Informer- Boston Mass. THE GRAYLINE:- The Analects of A Black Disabled Man, The Gray Leopard Cove, Soul Tree Radio In The Raw, and The Batchelor Pad Network, Disabled Community Activist. Email at garyngray@blackathlete.com
Garynorrisgray@Wordpress.com
©Copyrighted Gary Norris Gray @ Gray Leopard Prod.