WACO, TEXAS – John Merritt, former head coach at Jackson State and Tennessee State, has been named the American Football Coaches Association's recipient of the 2017 Trailblazer Award. The award will be presented, posthumously, at the AFCA Honors Luncheon on Monday, January 8, at the 2018 AFCA Convention in Charlotte, North Carolina. Merritt passed away on December 15, 1983, at age 57.
The AFCA Trailblazer Award was created to honor early leaders in the football coaching profession who coached at historically black colleges and universities. Past Trailblazer Award winners include Charles Williams of Hampton (2004), Cleve Abbott of Tuskegee (2005), Arnett Mumford of Southern (2006), Billy Nicks of Prairie View A&M (2007), Alonzo "Jake" Gaither of Florida A&M (2008), Fred "Pops" Long of Wiley (2009), Harry R. "Big Jeff" Jefferson of Bluefield State (2010), Edward P. Hurt of Morgan State (2011), Vernon "Skip" McCain of Maryland-Eastern Shore (2012), Marino Casem of Alcorn State (2013), Gideon Smith of Hampton (2014), Eddie Robinson of Grambling State (2015) and Oree Banks of South Carolina State and West Virginia State (2016).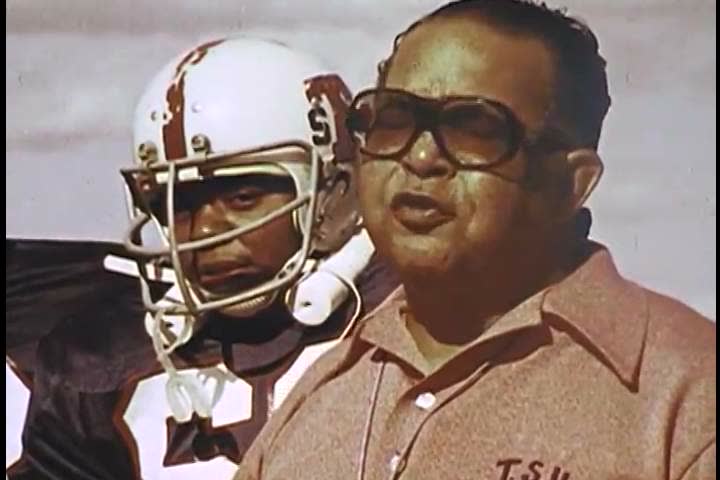 A native of Falmouth, Kentucky, Merritt earned Louisville Defender All-American and All-Midwestern Conference honors as an offensive guard at Kentucky State, where he earned the nickname, "Big John." After graduating Kentucky State in 1950, he earned his Master's degree from the University of Kentucky in 1952. Merritt began his coaching career in 1953 as the head coach at Jackson State. In his 10 years, Merritt led the Tigers to an overall record of 60-33-4 and back-to-back appearances in the Orange Blossom Classic in 1961 and 1962.
In 1963, Merritt took over the reigns at Tennessee State and in his 21 years as head coach, Big John would leave his mark on college football. He guided the Big Blue to an overall record of 172-33-7, including six Black College national championships and five undefeated seasons. Merritt's teams claimed three wins and a tie in the Grantland Rice Bowl, and a victory in the Pioneer Bowl. The Big Blue never had a losing season under Merritt's watch.
While at Tennessee State, Merritt had 84 players drafted into the National Football League, including seven first-round picks. Top among those were two first-round picks in 1974, Ed "Too Tall" Jones (No. 1 overall pick by the Dallas Cowboys) and Waymond Bryant (No. 4 overall pick by the Chicago Bears). In 1968, Merritt also had two first-round picks in Claude Humphrey (No. 3 overall by the Atlanta Falcons) and Eldridge Dickey (No. 25 overall by the Oakland Raiders).
Merritt was inducted into the National Football Foundation College Football Hall of Fame in 1994 and earned the 1995 AFCA Amos Alonzo Stagg Award. He is also a member of the Tennessee State University Sports Hall of Fame and the Tennessee Sports Hall of Fame. In 1982, the city of Nashville named old Centennial Boulevard between 28th and 44th Avenues John A. Merritt Boulevard in his honor. Tennessee State also started the John Merritt Classic in 1999, an annual football game that honors the late coach and helps raise funds for scholarships and related needs for TSU students.
The AFCA was founded in 1922 and currently has more than 11,000 members around the world ranging from the high school level to the professional ranks. According to its constitution, the AFCA was formed, in part, to "maintain the highest possible standards in football and in the coaching profession" and to "provide a forum for the discussion and study of all matters pertaining to football."